Over 45 years of outdoor leadership
The Outdoor Centre has been successful for over 45 years due to the hard work and dedication of all our staff members. Our team, including program coordinators, administrative staff, guides, and instructors, are all industry leaders/certified professionals with extensive experience in introducing individuals to outdoor pursuits. They bring their expertise and commitment to our organization, ensuring the quality of our programs and the safety of our participants.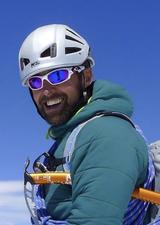 Paul Chiddle
Outdoor Centre Manager, Instructor, Guide
Paul is the manager of the Outdoor Centre and a highly experienced practitioner in all disciplines and aspects of outdoor education. Whilst Paul is primarily responsible for the strategic development, business and risk management within the Outdoor Centre, he is also a fully qualified IFMGA Mountain Guide and member of the ACMG, so in his spare time you'll likely find him somewhere in the mountains.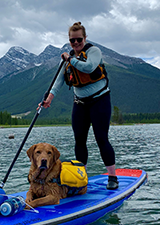 Lauren Chown
Youth Program Coordinator, Instructor
YOUTH PROGRAMS
Lauren has been working at the Outdoor Centre since 2018. She began as an Outdoor Youth Leader, leading summer camps, overnight trips, and cross-country skiing programs, as well as youth paddling and mountain biking programs. She later advanced to Assistant Youth Program Coordinator and is now the Youth Program Coordinator. Lauren is dedicated to encouraging youth to get outside and try new activities! Paddle Canada Moving Water Canoe Instructor, Paddle Canada Advanced Flatwater Stand Up Paddleboard Instructor, and OCC Field Leader (Hiking).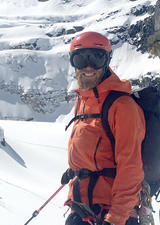 Brad Cooke
Program Coordinator, Instructor, Guide
ROCK CLIMBING, ICE CLIMBING, MOUNTAINEERING, AVALANCHE SAFETY, BACKCOUNTRY SKIING, SKI MOUNTAINEERING, CREVASSE RESCUE
Brad joined the Outdoor Center in 2019, bringing with him a decade of experience guiding guests in the mountain ranges of Alberta and British Columbia. He is an enthusiastic rock, ice, and alpine climber, backcountry skier, runner, and cyclist and is passionate about sharing his love of safely enjoying the great outdoors. As the manager of a team of ACMG-certified guides and avalanche skills instructors, Brad works to spread the excitement and expertise of his crew to others. ACMG Apprentice Alpine Guide, CAA Level 2 Avalanche Operations, CSIA Level 2 Ski Instructor.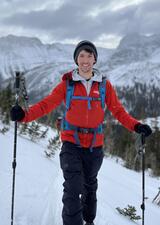 Ryan Flinkfelt
BSc, Equipment and Services Administrator, Instructor
Ryan has been with the Outdoor Centre since 2017, starting as a front desk staff member and working his way up to his current role. Ryan has over 10 years of customer service experience and continually shares his extensive knowledge of outdoor sports and equipment with others. In his free time, he enjoys ski touring, skiing/snowboarding, climbing, backpacking, and hiking, and he also plays Men's Competitive Premier/Majors soccer in Calgary. ACMG Climbing Gym Instructor - Level 1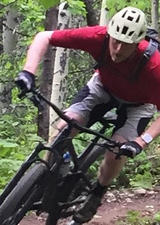 Cody Johnston
BA, BEd, Equipment and Services Coordinator, Program Coordinator, Instructor
BIKING, BIKE REPAIR
Cody has over 25 years of mountain biking and teaching experience and coordinates the cycling and ski/bike repair programs at the Outdoor Centre. He shares a passion and philosophy for riding, tuning and repairing technical gear. He says, "There is something captivating about bikes– the balance, the openness to one's surroundings, and the simplicity of the machine itself. Whether on skis, a board, or a bike, tuning gear with your own hands only adds to the satisfaction and freedom you feel outdoors."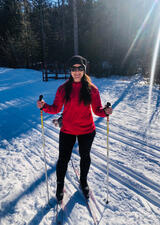 Nakita Kautzman
BA, Customer Service Supervisor (Rental Shop)
Nakita is a graduate of the University of Calgary, where she earned a Bachelor of Arts in Communication and Media Studies. She joined Active Living in 2017 and has been a valued member of the Outdoor Centre team since 2021. As an avid outdoor enthusiast, Nakita enjoys a variety of activities, including snowboarding, cross-country skiing, backpacking, hiking, dirt biking, and white water rafting. In addition to her outdoor pursuits, Nakita is also a competitive bodybuilder and powerlifter.
Nakita's passion for adventure has taken her all over the world, including backpacking through 16 countries in Europe and white water rafting the Lütschine in the Swiss Alps, which she considers to be her most memorable trip. When she's not exploring the great outdoors, Nakita can be found pushing her limits in the gym or enjoying some much-needed downtime in the mountains.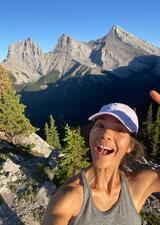 Christine O'Brien
BKin, Minor in CMS, Social Media and Communications Assistant
Christine, a versatile professional at the Outdoor Centre since 2022, began as a Shop Staff Member and quickly became a valuable asset as a Social Media and Communications Assistant due to her passion for the field. With a Bachelor of Kinesiology and a Minor in Communications and Media Studies from the University of Calgary, Christine brings a wealth of knowledge and experience to her work, creating engaging content with her background in journalism and over 10 years of photography experience. Christine is also an avid solo hiker, blogger, and advocate for wilderness safety, mental health, and nutrition awareness, capturing the beauty and challenges of the great outdoors through her writing and photography. When not exploring nature, Christine enjoys activities such as cycling, weight training, swimming, and learning through a good book.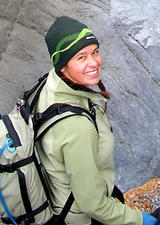 Rachel Oggy
Program Coordinator, Instructor, Guide
HIKING, SNOWSHOEING, LEADERSHIP, NAVIGATION, BEAR SAFETY, CAVING, PARAGLIDING, HANG GLIDING, WILDERNESS FIRST AID
Rachel has been with the Outdoor Centre for 12 years. She coordinates the hiking, backpacking, snowshoeing, navigation and leadership programs, and guides many of the trips. Rachel brings extensive knowledge of the mountains, trails and routes of the Canadian Rockies, which allows the Outdoor Centre to offer a wide variety of spectacular hiking trips and locations. Rachel leads a team of highly qualified guides who have years of experience and a variety of expertise to share with trip participants.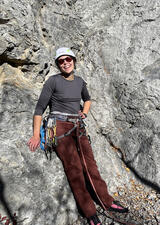 Sydney (Syd) Urschel
Climbing Facilities Supervisor, Instructor, Guide
Syd has a wealth of experience in outdoor leadership, teaching, and customer service. For over 10 years, she has worked with the Outdoor Centre, starting as an Outdoor Youth Leader in 2013 and progressing to become an "Out of City Leader," taking youth on hikes and overnight backpacking trips, leading rafting days, and teaching indoor climbing. Syd has also worked in the rental shop, where she started as a shop staff and eventually became a rental shop supervisor and climbing desk attendant. In 2021, she was promoted to her current role as the climbing supervisor, where she oversees the climbing facilities on campus and focuses on engaging with the student community, teaching climbing programs, and building up the climbing staff team. ACMG Climbing Gym Instructor - Level 1, OCC Field Leader for Hiking, and a PROAA Class 1 River Guide.