Backcountry Cooking Recipes
We'll be posting recipes here periodically so that you can practice up while dreaming of future outdoor adventures.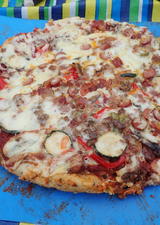 Dutch Oven Pizza
Serves 6 ~ use a 12" oven - Angela Harder
Ingredients
Pizza dough
1 cup warm water 1 Tbsp yeast
1 tsp sugar
Ziploc pre-mix #1
2 1⁄2 cups flour (bring extra in another bag)
1 tsp salt
1⁄2 tsp garlic powder
2 tsp basil
4 Tbsp oil
Ziploc pre-mix #2 (sauce)
dried tomato paste leather (6–13 oz can)
1 tsp basil
1 tsp oregano
1 tsp garlic powder
salt and pepper to taste
Toppings could include
1 cup dried ground beef
easy crisp bacon
dried pepperoni
dried peppers, mushrooms, or zucchini
1 lb mozzarella
Directions
Mix warm water, yeast and sugar together. Let sit until foamy (5-10 minutes). Add in pre-mix #1 and knead together. You do not want the dough to be too sticky so have some emergency flour to add extra if needed. Let rise 30-60 minutes in a warm place (can use Dutch oven and place near fire). This dough will make 2 batches for a 10-12" Dutch oven.
While you are waiting for the dough to rise, hydrate the tomato paste leather in hot water (a small amount at a time until you get the right consistency). Stir and let sit until full hydrated. At the same time hydrate your meat and selected veggie toppings separately. Drain off excess liquid when hydrated.
When dough is ready, split into 2. If you have 2 Dutch ovens you can make them at the same time. Grease Dutch oven and push out dough along bottom. Spread on tomato sauce. Add toppings and cheese. Bake in Dutch oven at 350F for 20-30 minutes.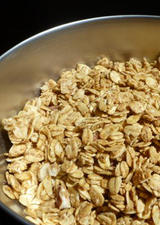 Rocky Mountain Granola
I did not like granola until I had this recipe. Once you start you can't stop! - Angela Harder
Dry ingredients
11 cups old fashioned oats
2 cups coconut (optional)
2 cups pumpkin seeds
3 cups chopped up whole almonds
1 cup sesame seeds
1 cup sunflower seeds
1 cup flax seeds
1 tsp salt
Warm up
1 cup maple syrup
1 1/2 cup grapeseed oil
4 tsp vanilla extract
Directions
Toss dry ingredients with wet and mix thoroughly. Spread onto greased baking sheets. Bake for 40-45 minutes at 330F until golden in colour. Stir every 10 minutes during baking. Enjoy with your favourite yoghurt.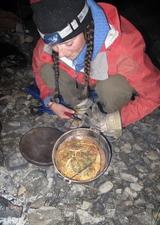 Bannock
Yield: 6-8 buns - Bridget Mahaffey
Ingredients
3 cups all purpose flour 
1 tsp salt 
2 Tbsp baking powder 
1/4 cup melted butter or vegetable oil 
1 1/4 cups of water  

Optional additions
Grated or chopped up cheese with spices (eg: dill or oregano)
Cinnamon and sugar 
Chocolate chips or caramel chunk 
Directions
Mix all dry ingredients together and any tasty additions. Add butter or oil and mix. Add water slowly while mixing. Bake dough in the oven at 350F on a greased baking sheet for 25-30 minutes. Dough can also be cooked in a greased pan with a lid over medium-low heat for 15 minutes a side. Flip once side is golden brown. Break into six portions and serve.
Outdoor cooking options
Cook bannock in a pan over the stove or fire (cast iron pan with a lid is ideal but any frying pan will do). Make sure pan is greased with oil or butter. 

Once your fire has enough coals, put the dough in a cast iron pan/pot with a lid and place the pan into the coals. Using tongs, place some coals on top of the pan. TIP: To prevent burning, put small rocks in your cast iron pan. Put your dough onto a tin pie plate and place the plate on the rocks. Cover with lid.

Roast over a fire until golden brown. Roll dough into long finger thick pieces and wrap around a roaster stick OR wrap the dough thinly around a hot dog or marshmallow. 
Camping mixing tips
Pre-mix the dry ingredients before your trip in a bag. When you're ready to cook the bread, add water and oil to the bag and mix the ingredients together using your hands on the outside of the bag. This will keep the mess contained. The bag can be washed and reused after.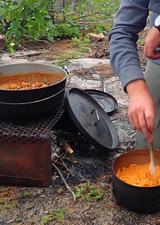 Sweet Potato Shepherd's Pie
Serves 6 - Angela Harder
Ingredients
1 Tbsp oil
1 onion
2 garlic cloves
1/2 cup dried carrot
2 cups dried ground beef
1/4 cup dried celery
3/4 cup dried peas/corn
1 Tbsp (make 1 cup liquid) beef bouillon
128 oz can diced tomatoes (dried)
2 Tbsp Worcestershire sauce
1/4 tsp cayenne pepper
Sweet Potato Topping
You will need to make this ahead of time and dehydrate it.
2 1/2 lbs sweet potato peeled and cut into chunks
2 Tbsp orange juice
1 Tbsp maple syrup or honey
1 tsp salt
1 tsp paprika (for top)
Directions
At home: cook the sweet potato in boiling water for 15-20 minutes or until soft. Drain well and mash with orange juice, honey and butter. Season with salt and pepper. Layer evenly (." thick) on dehydrator trays. Dry at 130F for 6-9 hours.
In the field and prior to cooking: re-hydrate all veggies and ground beef. If you have time, put in sealed container, cover with water and let soak for the afternoon. Otherwise, cover with boiling water and let sit for an hour. Heat oil in Dutch oven and fry onion and garlic. When meat and veggies are soft, drain off excess liquid (keep liquid) and add to onion and heat. Add liquid back if needed. Add the rest of the ingredients (except paprika) and liquids. If you use dehydrated diced tomatoes make sure you have enough liquid. Cook until thick. Meanwhile, boil extra water and add gradually to sweet potato leather until fully hydrated and right consistency. Once everything is ready, top the sweet potatoes over the meat mixture in the 12" Dutch oven. Dust top with paprika. Bake for 350F for 30 minutes or until browned and bubbling.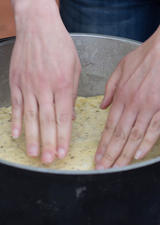 Italian Herb Bread
Dutch Oven. Serves 6. - Angela Harder
Ingredients
Ziploc pre-mix
    2 3/4 cup flour (can use 1/2 whole wheat)
    1 Tbsp powdered milk
    1 1/2 tsp salt
    1/4 cup Parmesan cheese
    3 tsp Italian seasoning
1/4 cup oil
1 cup plus 1 Tbsp warm water
1 Tbsp sugar
1 Tbsp active dry yeast
2 Tbsp butter
Directions
In a bowl, combine warm water, sugar and yeast and set aside for 5-10 minutes (until frothy). Add butter and yeast mixture to pre-mix and knead until soft dough forms. Place in greased 10" Dutch oven and let rise in a warm place until it doubles in size. Punch down dough and form into a loaf. Place back in warm, greased Dutch oven and let rise again until double in size. Bake 40 minutes or until golden brown at 350F (if using coals, 8 on bottom and 12 on top).
Create tastier backcountry meals
We offer a three-part backcountry cooking program in the spring. You'll learn to plan, prep and cook tasty backcountry meals for yourself or a group. This program was designed by Angela Harder, who is our extended canoe tripping guide and has been cooking in the backcountry for over 20 years. Angela has recently adapted this program to include more 'lightweight' recipes and cooking techniques for backpackers.
Select 'Browse programs' to see Outdoor Centre offerings/dates on the shared Active Living registration tool.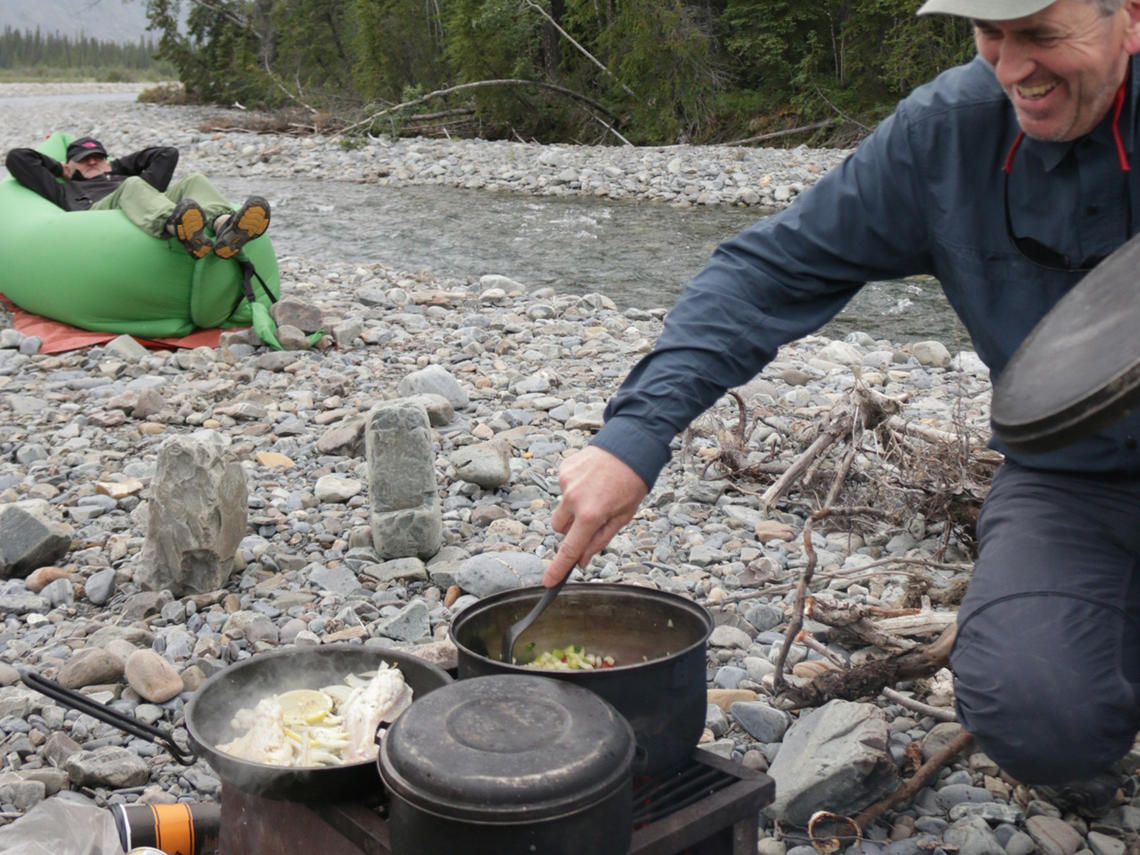 Don't go hungry in the backcountry—be prepared. In these workshops designed for canoe tripping and backpacking, you'll learn to dehydrate, package and cook meals on backcountry stoves and over campfires in Dutch ovens. 
Backcountry Cooking
Angela Harder
Manager of paddling programs, Instructor, Guide
ocprograms@ucalgary.ca
T.403.220.7021